Druk Air
Here, is the easiest way to get in Bhutan. There are only two ways to Bhutan is via air and via road since Bhutan is a landlocked country.
Bhutan's national carrier, Druk Air, and Bhutan Airlines both provide international flights into Bhutan's international airport located in Paro.
By Air: International Flight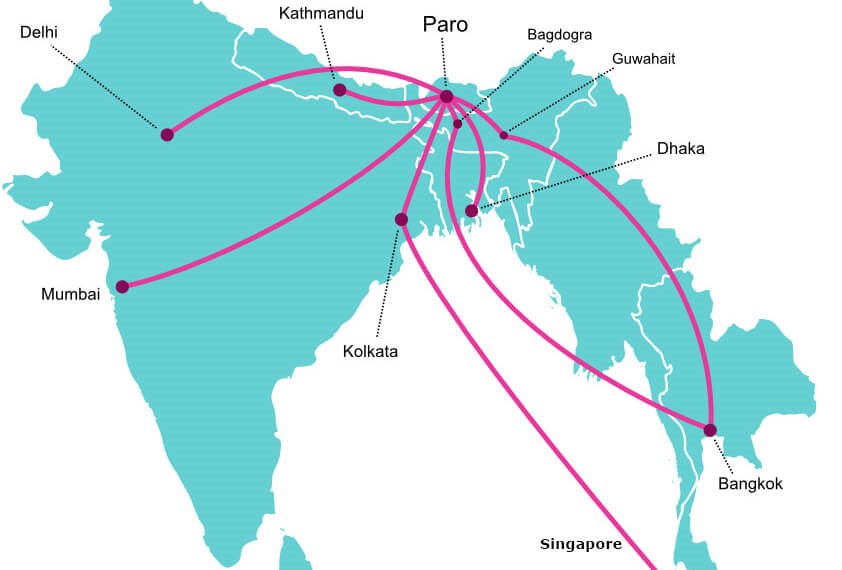 Drukair and Bhutan Airlines International Flight Routes
Drukair and Bhutan Airlines International Flight Routes
"It's only when you are flying about it that you realize how incredible the earth really is." Said by Philippe Perrin.
You can fly through the air on the wings of a Drukair flight to explore this beautiful Shangri-La. Drukair Corporation Limited, operating as Drukair — Royal Bhutan Airlines, is the flag carrier of the Kingdom of Bhutan, headquartered in the western dzongkhag of Paro.
The Royal Bhutan Airlines (Drukair), is the national carrier of the Royal Government of Bhutan, operating to nine cities in six countries.
Bangkok, Thailand (Twice Daily)
Kolkata, India(Daily)
Guwahati, India (Thrice Weekly)
Singapore(Twice Weekly)
Bagdogra, India(Seasonal)
Dhaka, Bangladesh(Twice Weekly)
Kathmandu, Nepal(Daily)
Gaya, India(Seasonal)
Delhi (6 days per week, fluctuating so please enquire for schedules)
Druk Air – Royal Bhutan Airlines Fleet Details
IATA KB
ICAO DRK
Callsign ROYAL BHUTAN
Country
Bhutan
Air Founded
5 Apr 1981
Started Operations
11 Feb 1983
Base / Main Hub
Paro (PBH / VQPR)
Fleet Size
5 Aircraft
| Aircraft Type | Current | Historic | Seats | Avg.Age | Total |
| --- | --- | --- | --- | --- | --- |
| ATR 42/72 | 2 | | 8x-class,32y-class | | 2 |
| ATR 42 | 2 | | | 10.4 Years | 2 |
| Airbus A319 | 3 | 1 | 16x-class,102 y-class | 11.8 Years | 4 |
| Airbus A319-100 | 3 | 1 | 16x-class,102 y-class | 11.8 Years | 4 |
| British Aerospace BAe 146/Avro RJ | | 3 | | | 3 |
| British Aerospace 146-100 | | 2 | | | 2 |
| British Aerospace Avro RJ70 | | 1 | | | 1 |
Druk air operates with 3 Airbus 319 on different international sectors. Airbus 319 has seating capacity of 114 seats. With 20 seats for business class and 94 for economy. Drukair operates daily flights to Bangkok and regular flights to Delhi, Kolkata, Kathmandu, Dhaka, and most recently in, Bagdogra and Gaya. In 2012, Drukair added Singapore route in 2012
Bhutan Airlines
Tashi Air Pvt. Ltd, trading as Bhutan Airlines, is Bhutan's first private airline. Its head office is in Thimphu.
Bhutan Airlines first started its commercial flight operation on 10th October, 2013 with Airbus 320 on lease. Now they started their fleet with a new Airbus 319 with 122 seating capacity.
Currently Bhutan Airlines operate daily flight into Bangkok via Kolkata (India) and return. It also operate daily flight to Kathmandu (Nepal) except on Fridays. Proposal are underway to start flight to Delhi from September, 2015.
Fares for the Bhutan Airlines are similar with Drukair and sometime it may be likely more towards lower side.
Domestic Flight
Here are three domestic airports:
Bumthang (Central Bhutan)
Yongphula (Eastern Bhutan)
Gelephu (south Bhutan)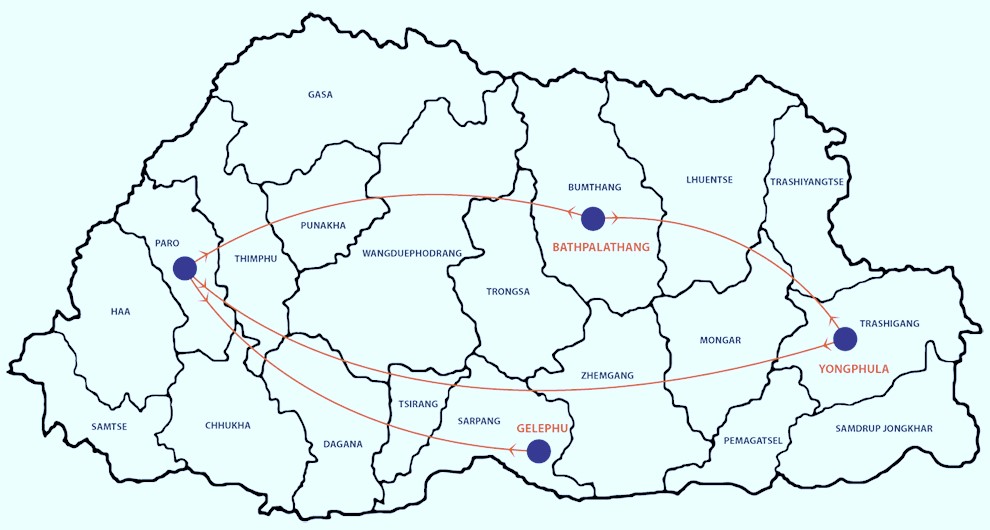 For domestic service, the ATR would only be able to take a maximum of 22 passengers due to the short runway on both Bumthang and Yongphula airport.
Helicopter Services
The first ever helicopter in Bhutan was delivered in November 2015 and has been a huge success. Both helicopters are available for hiring to tourists and locals and it is used by the government for emergency rescue, firefighting and airlifting patients from remote locations to the referral hospital in the capital, Thimphu.
Bhutan Helicopter Sightseeing Tours
| From | To | Landing Spot | Flight Time(min) | Description |
| --- | --- | --- | --- | --- |
| Paro | Bumthang | Batpalathang Airport | 110 | Zoom-in your lenses as we sojourn into the Northern Shangri-La of Bhutan, while making sure you savor every luscious scene along the world famous Snowman Trek. As we streak over the northerly heavens and finally bid farewell in Bumthang, you'll have traversed a journey of 26 days on a flight of mere 3 hours, and witnessed the true beatific nature of the Himalayas unfolding before your very eyes. |
| Paro | Paro | Paro Airport | | This scenic flight will offer a spectacular view of Paro valley from the air. While flying along the valley, you will discover most of the sacred places and the important landmarks the valley has to offer. However, the most important highlight of the tour will be the famous Paro Taktsang (Tiger's Nest). |
| Bumthang | Gomthang | Hidden lake Tour (Bumthang-Gomthang-Bumthang) | 35 | Enjoy the beautiful valley of Bumthang from the air. This scenic flight will fly towards the north of Bumthang valley over the famous Dhur Tsachu (hot spring) and land into the enchanting mysterious hidden lake. On a beautiful day, one might also get a glimpse of Mt. Gangkhar Puensum. |
| Bumthang | Khoma | Traditional Textile Tour (Bumthang-Khoma- Bumthang) | 50 | Enjoy the beautiful valley of Bumthang from the air. This scenic flight will fly towards the north of Bumthang valley over the famous Dhur Tsachu (hot spring) and land into the enchanting mysterious hidden lake. On a beautiful day, one might also get a glimpse of Mt. Gangkhar Puensum. |
| Bumthang | Sakteng | Merak-Sakteng Tour (Bumthang-Sakteng-Merak-Bumthang) | 107 | Merak meaning "set on fire" and Sakteng meaning "meadow covered with bamboo". Merak and Sakteng fall under the Trashigang Dzongkhag, the furthest eastern province in Bhutan. Merak-Sakteng Tour is a truly exotic scenic flight exploring one of the most scenic pastoral valleys in the guarded areas of Sakteng Wildlife Sanctuary, and gradually permeating into the unique lifestyles of the eastern Highlanders as you get a chance to roam the villages on foot in Merak and Sakteng. |
| Bumthang | Manas | Royal Manas Wildlife Tour (Bumthang-Manas-Bumthang) | 80 | This captivating tour takes you through one of Bhutan's oldest preserved areas connected by the wildlife corridors of Jigme Singye Wangchuck National Park in the northwest, Phibsoo Wildlife Sanctuary in the southwest, Phrumsengla National Park in the northern center and Jomotshangkha Wildlife Sanctuary in the south east. Fly into the heart of Royal Manas Wildlife Park, and experience the indigenous flora and fauna in abundance. |
| Paro | Manas | Manas park football ground | 150 | |